This Maple Syrup Sweetened Lemon Tahini Salad Dressing will shake up your salad routine and also inspire you to make your own salad dressing more often. It's quick and simple to make. And it's oh, so good.
If you love maple syrup and lemons, you'll love this easy-to-make lemon tahini salad dressing. If you're scrunching up your nose at the idea of tahini, this recipe will quickly change your mind about it.
How I fell in love with lemon tahini salad dressing
My teenager is the queen of making incredible salads. Late one night, she whipped up a delicious tahini salad dressing. I was instantly hooked on tahini dressing once I tried it.
The catch though was I needed to try it to love it.
Before that night, I had never been a big tahini fan.
Now, I can say I am a big tahini salad dressing fan.
Not all tahini tastes the same
Over the years, I've used different brands of tahini, such as for making hummus dips. I learned that not all tahini tastes the same. So, if you don't have a favorite tahini already, you may have to experiment a bit before you find one that makes your taste buds happy.
Oh, and sure, good tahini isn't exactly cheap, but a jar can go a long way. You can make salad dressings or homemade hummus, too.
Maple Syrup makes everything taste better, especially tahini
I'm from New England. Maple Syrup is in my DNA. Real maple syrup makes everything taste better, including tahini.
Please, please, please use real maple syrup in this recipe–even better if you use real Vermont Maple Syrup! If you don't have any, you can squeak by with Agave or even honey…but I'm telling you (and my daughters will tell you… there's.nothing.like.real.maple.syrup.
Pair this Lemon Tahini Salad Dressing with just about any salad
It's just that good.
It is also amazing paired with an incredible soup. You can find some easy and quick soup inspiration here.
The Maple Syrup Sweetened Lemon Tahini Salad Dressing Recipe
Enough said. It's time to crank away and make this Maple Syrup Sweetened Lemon Tahini Salad Dressing!
Maple Syrup Sweetened Lemon Tahini Salad Dressing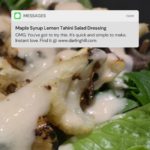 A sweet lemon tahini salad dressing made with maple syrup that is just that good.
1/4 cup Tahini
2.5 – 3 Tablespoons Real Maple Syrup
1 clove Garlic (minced or crushed)
1 small Lemon
1/4 cup water
1 crank on a grinder or a pinch of Himalayan Sea Salt
Combine all ingredients into a container suitable for mixing with a stick/immersion blender. Blend smooth. Alternatively, blend in a food processor or hand mix until smooth. Taste – add more maple syrup if you prefer sweeter. Add more tahini if you want a more sesame taste. Add a bit more lemon if you prefer the dressing more lemony.

Drizzle or pour on top of a salad of your choice.

Enjoy!
15 Minute Lunch or Dinner Idea – Sautéed Veggie Salad with Tahini Dressing
Salad idea pictured here: A bed of mixed greens, fresh cherry tomatoes, cauliflower and yellow onions sautéed in olive oil, with the tahini dressing drizzled on top.
How to Make This Salad & Salad Dressing:
Make the above tahini salad dressing. (10 minutes, tops!). While you are making it, sauté chopped cauliflower and yellow onions on medium heat on the stove. Chop cherry tomatoes. Line a bowl with a bed of mixed greens. Add tomatoes. Add sautéed mixture on top. Drizzle lemon tahini salad dressing on top. 15 minutes later (tops!) … Enjoy!