Do you dream about how to start homesteading right now? Wish you could live a simple, self-sufficient existence? Do you wish you could live on less, while living a better lifestyle? Are you looking for peace of mind knowing that your home is self-reliant and prepared for disaster?
If you answered yes, don't stop scrolling.
You can do this. You can start homesteading right now.
Seriously.
Whether you live in the city, like in a tiny apartment, the suburbs, or live far from it all, you can create a self-sufficient lifestyle.
My Story
Growing up, my parents were the type of DIY, do most everything and anything themselves.
Somehow though, I must have missed the DIY memo or instruction book.
As I entered adulthood, I somehow had no idea that it was possible to save seeds, freeze berries or cheese, or make my own yogurt–or sour dough bread or baguettes. I definitely didn't know how to garden. Gee, I couldn't even keep a houseplant alive. I had no idea that you could buy in bulk when things go on sale, and freeze or can the extras.
Also, I had no idea that it was possible to cook in bulk and store foods for later.
I certainly had no clue that it was possible to save tons of money by making your own household cleaners, like soap or laundry detergent.
When I had my first baby, the idea of making my own diapers, instead of buying them premade, never crossed my radar.
But then it happened
I didn't figure out how to DIY, live simply, homestead, or live thoughtfully overnight. I didn't go to bed one night dreaming of self-sufficiency and wake up to a homesteading lifestyle.
Instead, I slowly started, project by project–one idea at a time, one by one–toward creating the life I envisioned.
Take the first time I went apple picking as a young mother at my father's secret apple location. He told me to bring boxes and bags. I picked so many apples that year. I then bought my first apple corer and peeler, and made my first foray into canning. Applesauce.
I bought mason jars. My first mason jars. I am so in love with mason jars.
I googled how to make applesauce from scratch. Then, I peeled and peeled apples. Then I cooked the apples down on the stove. I used an old-school hand cranking strainer pot, and turned the cooked apples into applesauce. Following instructions I found online, I canned jar after jar of applesauce. I would later use those jars throughout the year in my baking, recipes, and dishes.
One Project at a Time, One Constant Dream
It was through one project at a time that I developed and acquired homesteading skills. I wasn't born with these skills. I learned them as an adult. One project at a time. One skill at a time.
I've lived in major cities, the suburbs, rural towns, in an RV, and in the mountains. I've moved around a lot. One thing that has stayed constant is my dream of self-sufficiency–wherever I am. And regardless of how long I am in a place.
Wherever my life has taken me, I've spent time developing and honing skills in my particular environment that contribute toward my dream of self-sufficiency.
Sure, it may seem like leading a homesteading life requires life in one place, for a long time, but I don't think it has to be that way. Actually, I know it doesn't.
I am living proof that it's possible to live a self-sufficient dream wherever you are–and to continually build upon that dream one project at a time.
So, whether you are living in a tiny New York City apartment right now, are living in an RV, or living in a tucked-away mountain house, there are ways that you can homestead, live simply, or welcome minimalism into your life.
Whether it's growing your own lemons in a sunny, warm climate, or building a cold frame or low tunnel in a colder climate to grow winter spinach, you can become a homesteader, one project at a time.
You can also tackle smaller projects indoors or in small spaces, like teaching yourself how to crochet dish clothes or towels. Or how to create a windowsill herb garden, so you can harvest herbs for cooking or fresh mint for tea.
How to Start Homesteading Right Now
You don't have to wait until you have the perfect house and yard, bigger property, or a city apartment finally with a balcony to start on your homesteading, self-sufficient, simple living lifestyle dream.
You can start homesteading today. And, you can start prepping and planning for a self-sufficient, self-reliant future now.
Where to Start
As with any dream, a helpful first place to start is to put your dream out there. Write it down. Say it aloud. Tell your partner or best friend. Define it. Give life to it. Put it out there, so it feels real.
Identify Your Priorities
Figure out your homesteading, self-sufficiency, or minimalism priorities. Perhaps your priority is saving money. Maybe it's prepping or planning for the worst case scenario. Maybe it's to live more simply and ecologically.
Map out a General Plan, Noting Your First Immediate Project
Whatever your main priority or key priorities, identify them and them map out a general plan for addressing your priorities. Be sure to include in your plan your first immediate project.
Something you can do now. As in, today, toward your goals.
For example, if your dream is to be self-sufficient so you are prepared for the worse, your plan might include an immediate project for today that consists of buying storage totes for food or researching deals on buying a new or used small freezer for stockpiling frozen goods, storing recipes like soups, or saving produce from your garden.
Other ideas might include getting your hands on water storage barrels today, that can be used for rainwater collection. Rainwater can serve as emergency water, for watering gardens or irrigation, or for other sustainable household purposes.
Plan Your First Homesteading Projects
Though you may be eager to do everything at once, planning your first projects and tackling them accordingly may give you a sense of accomplishment.
You may find this list of How to Create a Well-Stocked Homestead Pantry, 11 Easy Projects for New Homesteaders or 9 DIY Prepper Ideas Anyone Can Do worth checking out.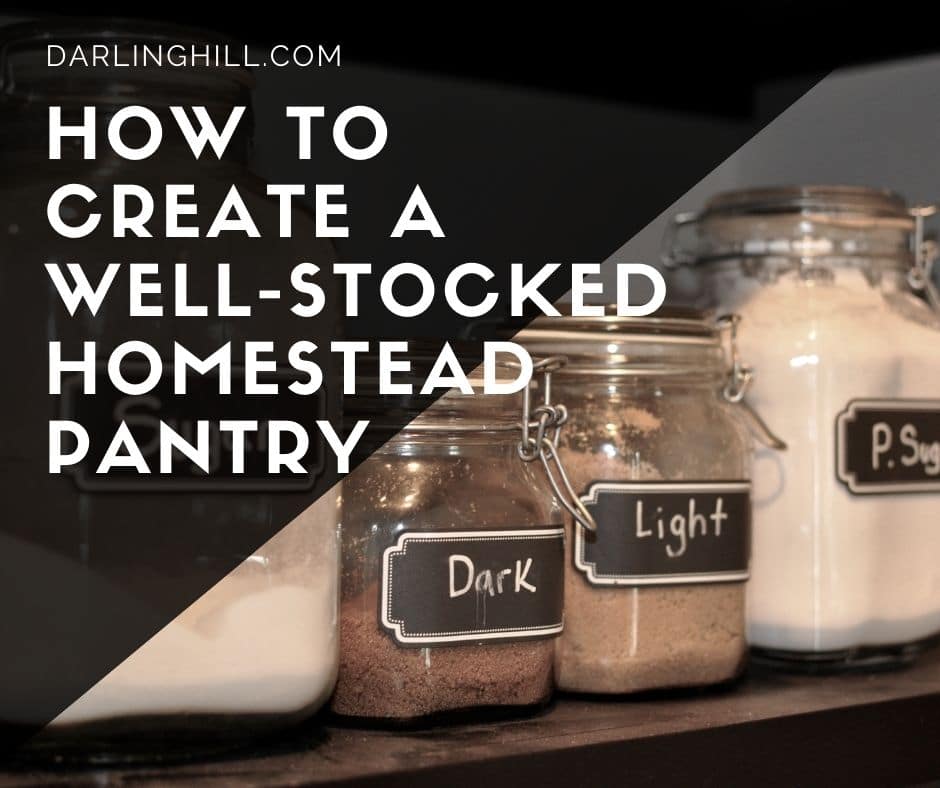 Drop a comment below. What has motivated you to start homesteading? I'd love to hear your thoughts on How to start homesteading right now.