My family spends a lot of time at the kitchen table.  In fact, our family life seems to center around the table.  The homeschooling.  The gagging over having to try one itty bitty bite of lasagne.  The blogging. The countless projects and inventions dreamed up by four children. The silly and not-so-silly conversations about life.  But as central as the table is in our lives, rarely do we all sit down together–at one time at least–to eat a family dinner.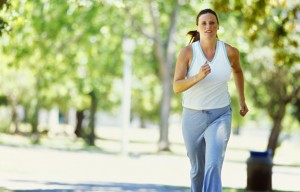 Instead I'd prefer to think of trails–and getting active together as a family–as the modern dinner table.  The Family Dinner Project suggests that American families should spend more time around the table, eating dinner together often.  The idea is that, "Most American families are starved for time to spend together, and dinner may be the only time of the day when we can reconnect, leaving behind our individual pursuits like playing video games, emailing and doing homework. Dinner is a time to relax, recharge, laugh, tell stories and catch up on the day's ups and downs, while developing a sense of who we are as a family."
Quality, happy time together as a family is probably a good thing–for kids, parents. and society.  So is exercise.  Spending time together where the focus is on fitness, rather than food, seems like a positive thing too.
If shared time around a meal can statistically reduce substance abuse, teen pregnancy, depression and improve self-esteem and resilience, just think of what family time spent outside walking, jogging or running together on trails–or pavement–could do.
More families are making trail running and outdoor endurance sports a family affair.  That's my family's goal. That's also what one Utah family is doing–three of their six children recently competed at the Xterra USA National Trail Championships. I know that runner blogger, VT Runner Mom, is also making getting out on the trails as a family a priority. And there are many other families doing the same.
Is running becoming a family affair for you?  Are trails your new family table?
Happy Running!