If you're into the endurance sports and fitness scene, chances are good that you've heard of Kingdom Trails.  Located in Vermont's picturesque Northeast corner, the award winning Kingdom Trails system is known as a top destination for mountain biking.
But if you prefer the sound of your own feet pounding dirt to the sound of tires, the trails are also calling you–actually miles of gorgeous trails.
Though mountain bikers are drawn to Kingdom Trails, a trail network created and managed by the non-profit Kingdom Trail Association, the trails are multi-use and open to non-motorized recreation.  This use includes trail running. So, lace up your running shoes, trail runners!
Recent initiatives have increased the profile of Kingdom Trails as a trail running mecca for trail and ultra runners, such as the Coyote Scramble Ultras, Circumburke, and the Kingdom Trail Runners Facebook Group, which emerged from two seasons of the once upon a time Kingdom Trail Running Series.  Runners need not be ultra runners or die hard trail racers, however, to take advantage of the beautiful off-road terrain offered by this trail system.
As trail running increases in popularity throughout the world, runners continue to seek new places to train, run, and race.  If you're looking for a new destination for training, the miles of beautiful, varied-terrain, from grassy, lazy meadows to rugged, hilly single track, Kingdom Trails might fit the bill.
Keep in mind you need a trail pass or membership to use the Kingdom Trails network.  You can buy a pass at the Kingdom Trails Office in East Burke or at the local sports shop in the heart of East Burke, East Burke Sports.
Running Trails & Routes to Get You Started:
Bill Magill Loop:  Approx. 3.5 Miles:  2 Loops.  Start at KT Nordic Center/Village Sports/Wildflower Inn area on Darling Hill in Lyndonville and make your way toward Heaven's Bench on the hill behind Wildflower Inn (Burke Mountain side).  Follow Bill Magill trail down between cow pasture into woods.  Take Lefts at the forks.  Continue up gradual hill through sugarwoods (you'll see maple sap lines/tubing run), make your way around metal fence to Darling Hill.  Turn left, running on mowed grassy path along Darling Hill until you return to your starting point. Loop again for an approximate 5K+/- distance.
White School Trail.  From the center of East Burke, pick up White School Trail on East Darling Hill Road.  Head toward East Darling Hill Road, continue up the hill on East Darling Hill Road at the Burke Hollow Road intersection, continue for about 1/4 mile and make a right onto the White School Trail. Go approximately 2.25 miles out to the intersection of the VAST trail (next major intersection past the pond), take a left at the intersection and go uphill, at the crest of the hill take Farm Junk trail on the right, then go left as Farm Junk exits back onto the VAST trail, and then a quick right onto Skydive trail.  After about a mile, you'll return to a major intersection and take a right to make the approximately 2 mile return to East Darling Hill Road.  This hair pin loop is approximately 6.5+/- miles total.  This route can be extended by adding on other trails such as Nosedive during the outgoing or return legs.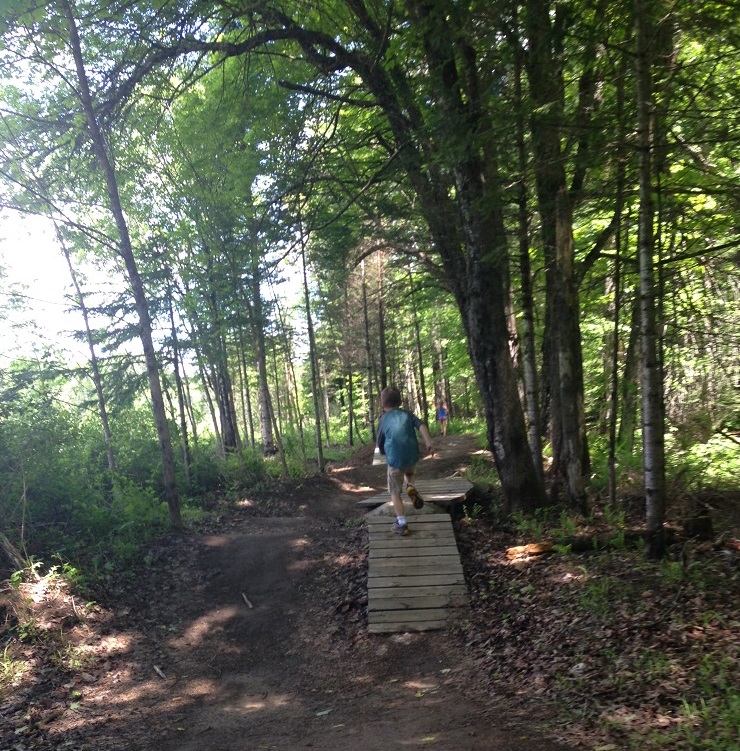 Easy/ Beginner/ Trail Running with Kids Loop:  Start at the East Burke Playground. Parking is available here. With your back toward the mountain, head toward the trails (past the port-a-john), take a left onto the trail under the power line cut (Church Trail). Continue on the trail until you see X-Mas trail on your right. Follow that trail down the hill until you see Chutes & Ladders on the right. Kids will love running this pump track trail. At the end of the trail take Dog Trail on the right up the hill.  At the end of the trail, turn left – you'll be back on Church Trail.  Follow it back to the playground.  Approx. 1.5-2 miles.
Have a favorite running trail to share?  Please leave a comment below.