I'm often asked how I manage to find affordable airline tickets for my world-traveling family of six.  In this post, I'm going to let you in on a few of my secrets for finding affordable and sometimes dirt cheap airfare.
But before I begin, you may want to keep in mind that analysts predict that airline prices will  drop this summer to the lowest rates in 7 years.  If you have a trip on your mind, this is the time to start planning it! Start looking for deals. If you see one, snatch it up fast! This is your year, to live your travel dreams!
I recently returned from an amazing trip to Turks and Caicos Islands with my husband and our four children. This trip is a good illustration of how it's possible to travel with kids to exciting destinations on the cheap.
The Travel Itinerary:  New York City –> Miami –> Providenciales, Turks and Caicos Islands

AIRFARE COST PER PERSON $150 Roundtrip, including taxes & fees.
TOTAL AIRFARE COST FOR A FAMILY OF 6:  $900 … for TWO travel destinations in ONE.
We departed New New York City's JFK Airport (JFK) to Providenciales, Turks and Caicos Islands (PLS) via Miami (MIA).  We took full advantage of a stopover in Miami, and stayed three beautiful nights in South Beach, Miami. The kids played on the beach. We ate good food. We got caught in a massive downpour while walking the shops on Lincoln.  We had lots of pool time. We went for runs along the beach.  It was a good time that we may not have experienced if we had paid more for a flight that went directly to our island destination (more about this below).
After our stay in Miami, we boarded a flight to Turks and Caicos.  We enjoyed five luxurious nights on the Island of Provo before catching our return flight to the USA.
We were able to snatch a 2 destinations for 1 flight deal by having travel flexibility, doing research, and by being creative (the stopover).  Not only did we spend less money on flights, but we got to visit Miami AND Turks and Caicos!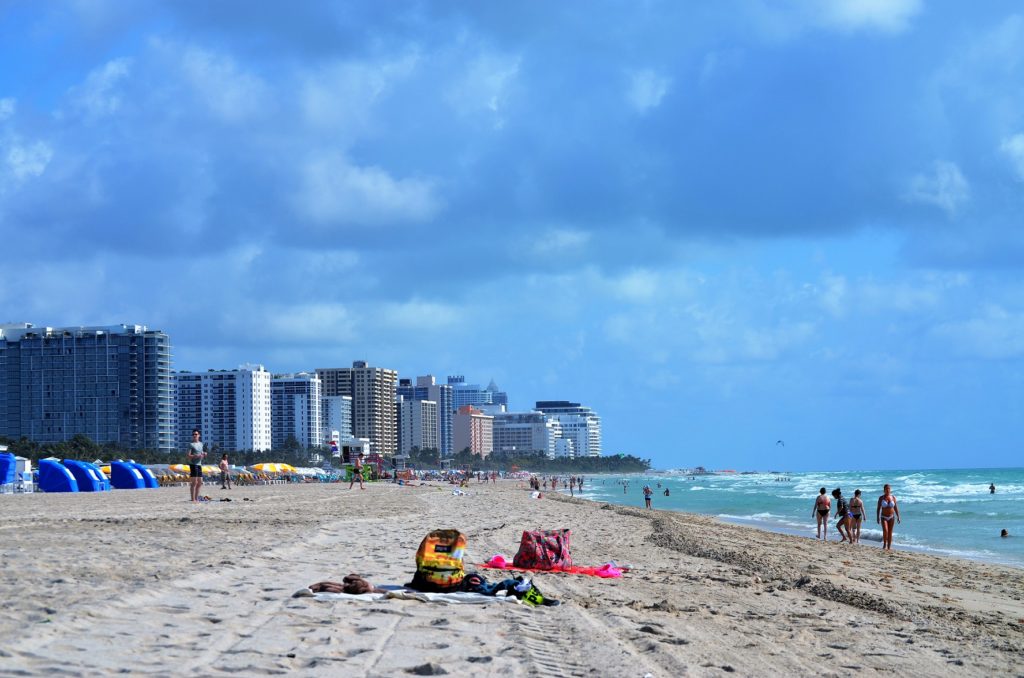 You, too, can score sweet airline deals for yourself or for your family!  Here are some of my travel secrets–which aren't so much secrets, but just lessons learned along the way.
CHEAP AIRLINE SECRET #1:  Be flexible.  The more gymnast-like you can be in terms of flexibility, the more likely you can will find amazing deals!  Consider…
Flexible with travel dates.
Flexible with departure and return airport choices.
Flexible with departure times.
Flexible with return times.
Flexible with layover times.
Flexible with airline choices.
Flexible with seating options.   
While not everyone has the luxury of travel flexibility, if you do, use it to your advantage, especially if you have to buy multiple tickets.  I think it's much more satisfying to pass airline savings onto accommodation upgrades, meals, entertainment.
To snatch the $150 RT/ticket, we were flexible with our travel dates, airports, departure and return times, and layover/stopover.
Flexible with Travel Dates.  Take advantage of airline and travel website search options that allow you to search the days around your preferred departure/return times (for example, +/-3 days).   Keep in mind that certain travel days are generally considered less expensive than others. Flying mid-week tends to offer greater savings.
Flexible with Departure and Return Airport Choices.  If you are flexible with your airport options, a whole new world of deal possibilities often becomes available to you.  When I researched fares to Turks and Caicos, I looked for fares out of any NYC area airport.  The best deal was leaving out of JFK, though the return flight landed in LGA.  By being willing to fly into a different return airport, we saved about $100 per ticket.
Be flexible and consider traveling to another airport, even if it is a distance from where you are based, to score a flight deal. There are times when I've flown out of/into Vancouver, Canada instead of Seattle, Washington or out of/into Montreal, Canada instead of Boston, MA because the choice of airport offered a substantial savings.  When you're buying multiple tickets, tracking down deals pays, especially when you are buying flights for a family!
Check into different airports whenever possible.  Keep in mind, if you do have to travel to an airport to reap airline savings, you'll want to factor in gas, parking, train tickets, bus fare, hotel, and any incidentals for getting there–make sure the "deal" is still worth it.
Flexible with Departure and Return Times.  Sometimes the cheapest flight deals don't offer the best departure and return times.  On our flight to Turks and Caicos, the sacrifice for the $150 RT/per person ticket was having to get up at 2:30 a.m. in order to catch the train to JFK in time for our early morning departure.  Had business been the purpose of the trip, that might have been a great departure time, giving an early morning Miami arrival time.  However, waking four young children before the crack of dawn in order to catch a super early flight isn't exactly something most parents dream about–they'd much rather be dreaming at that hour. Sometimes the cheapest flight deal isn't worth the cheapness. 
Flexible with Layover/Stopovers:  Consider breaking up your flight legs using a "multiple destinations" / multiple segment search to find a fabulous deal.   To score the $150 RT/per person ticket, I applied multiple trip destinations to my online search:
Flight #1: NYC-MIA
Flight #2: MIA-PLS
Flight #3: PLS-NYC
Breaking the trip into multiple flight segments resulted in real savings!
Typically, you can add many flight destinations (e.g., Flight 1, Flight 2, etc.). Searching for multiple destinations would like something like this (not my actual travel dates):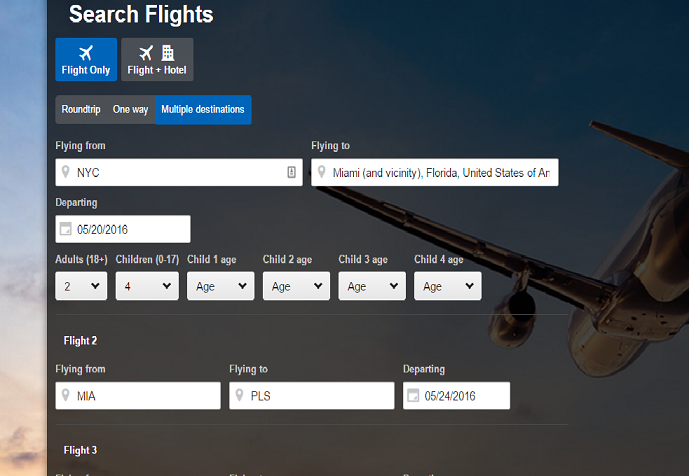 Flexible with Seat Options.  I am not a fan of airlines that charge extra fees for families to sit together, however, if you are looking for dirt cheap airfare, it might be possible that you score a better deal on an airline that requires you to pay a fare for seat assignment.  If you opt to pay the seat fare, double check that you will indeed score savings in the end. If you are not picky about seat assignments, or don't pay for a seat assignment or upgrade in advance and allow the airline to select seats for you, you might get lucky and find yourself sitting in a seat with extra leg room or in first class!
CHEAP AIRLINE SECRET #2:  Shop around. Compare multiple online travel search engines.
A fare on one website might be lower on another search site.  A fare might be lower on the airline's website when you direct book.  Keep in mind some airlines don't even show up on popular search results.  For example, you might not find Southwest or WOW.  Look directly at those websites for deals. Be sure to clear your browser cache frequently, especially if you keep returning to the same flight search site or enter multiple searches. You might also consider trying an 'Incognito' search to land the best deals.
Some of the websites I love to check out for finding cheap flights:
Google Flights
Skyscanner
Orbitz
SecretFlying
Skiplagged
Expedia
CHEAP AIRLINE SECRET #3: Sign up for travel alerts and Airline Mailing Lists.
Having deals delivered directly to your inbox can not only inspire you with new destination possibilities, but you might catch an early deal. Sign up to receive fare sale notices directly from airlines or on travel deal sites.  Sign up for Google News feeds using related news buzzwords, such as "travel," so you are one of the first to get the news about flight price trends, travel destinations, etc.  Look for and follow reputable and legitimate travel deal promoters on social media, such as on Twitter, Facebook, or Ello.
CHEAP AIRLINE SECRET #4:  Buy on the right day.
Quite honestly, there is no such thing as a right day.  But you may get lucky and buy on a good day–or better day! If you see an amazing deal, snatch it up.  Don't wait.  Not long ago, I hesitated on buying tickets for my family of six to go to Europe.  I got up bright and early, planning to book tickets over a morning latte.  I decided to keep researching fares, then I got distracted, the kids needed me, the laundry was ready to be folded, life happened….  When I finally sat back down in the front of the computer later that day, prices had surged to nearly $200 more per ticket.  Waiting to buy increased the price of 6 tickets by $1200! 
Airline prices change frequently–hourly, daily, weekly.  Buying early doesn't always give you the best deal.  Neither does always waiting until the last minute. Sometimes buying early scores the best deal.  Sometimes buying late does. There are no guarantees.  There is no guaranteed "right day," but you might get pretty close to it.
One study found that in 2015, buying the best deal for domestic USA travel took place about 54 days before a planned travel date.  The best time to get a deal on an international flight ticket ranged from 21 days to 170+ days, depending on destination.  Keep in mind, these time frames aren't fixed rules.  Some travel websites give you clues whether it might be a good time to buy, such as Kayak, which offers a price confidence predictor feature, which attempts to give consumers insight about whether it's a good time to buy a ticket for a given search.
Expect price fluctuations.  Expect generally to find the highest prices for flights within the 14 day window before a departure date.
It's no secret that certain days of the week are considered better for finding deals.  Many travel experts and experienced travelers claim that Tuesday is the best day of the week to buy flight tickets.  Again, keep in mind, this day isn't a fixed rule, but it's definitely worth looking for deals on a Tuesday anyway.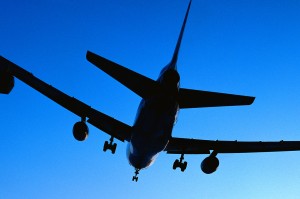 CHEAP AIRLINE SECRET #5:  Divide and Conquer.
When my husband travels with us, and I'm not traveling solo with the kids, I often do two separate searches on flight websites in search of the lowest fare: 1 adult w/2 children and another 1 adult w/2 children.  I compare those results with a search for 2 adults w/ 4 children. Sometimes dividing the search into two separate bookings yields surprisingly cheaper prices than one search that includes everyone.
Note:  At times I have hesitated to book two separate reservations, in the event that there is an unforeseen airline booking issue (in advance or upon airport arrival) that affects one reservation but not the other. This may only be a concern for non-refundable buys.
I have also discovered on at least one occasion on a particular travel flight website that I couldn't book enough tickets for my large family in one booking.  This prompted me to split my search into two bookings. You might find you have to split your search. Maybe you'll get unexpectedly lucky because of it.
CHEAP AIRLINE SECRET #6:  Sign up for an airline rewards credit card.
Often you can score great travel perks with an airline credit card. You may discover that you can justify any annual fee by the perks.  Perks may include bonus air miles points, a free companion ticket, free checked bag(s), early boarding, and flight coupons, such as the American Airlines cardholder $100 off coupon, which I've used before as a way to rack up added flight savings for my family of six.  An airline credit card may make even more sense if you pay your credit card bill in full each month, use it to make the majority of your purchases which you then pay off in full, and have multiple tickets to buy when you travel–you'll quickly accumulate points and perks, sometimes double points for airline ticket purchases and  priority boarding.  Priority boarding is a nice feature for families given that many airlines have done away with family pre-boarding.
CHEAP AIRLINE SECRET #7:  Use airline reward points.
My family accumulates lots of air points throughout a year, and it's always pretty cool when you can actually apply those points and get a free flight.  We once had enough points stocked up on Southwest to allow our family of six to fly for free at the last minute (we had a family emergency, and I can't imagine how expensive it would have been to buy last minute tickets).
Jet Blue offers a Family Point Sharing option which is a nice perk for families. To collect points, you'll want to make sure that you sign up each of your family members sign up for an airline frequent flyer programs.  Be sure to enter your air miles account for each member of your family when you make a flight reservation.  Consider using an airline credit card to earn additional points.  I love to use our airline credit card for our ordinary monthly purchases.  We rack up airline points even faster.  Keep in mind that there are often restrictions and blackout periods on reward travel–as well as fees–which can make actually using airline points frustrating.  Know how your air miles program works to avoid disappointment.
There's no magic to finding cheap family flights.
If there was a magic formula to scoring cheap family flights, I'm almost certain I would have found it by now–or at least heard about it or read about it.  If you are flexible and creative, however, you can find deals. Sometimes dirt cheap fares.  Just start digging….
FOR ADDITIONAL READING