Who says you can't mix work and play–and get bonus quality of time points with the family?  Be the envy of your peers and check out these beach towns when you need a little escape, but still need to be tethered to work.  Here are five perfect beach towns for teleworking with sand beneath your toes and the breeze in your hair.  Just remember to put down the sunscreen and pick up the phone when the boss calls.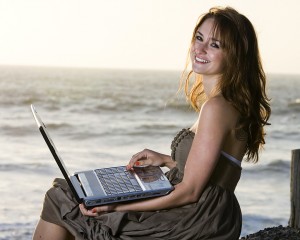 1.  New Smyrna Beach, Florida.  This quiet beach town will let you get your work done and leave time for play.  The white sandy, seemingly endless beach is an instant mood lifter.  Rent an umbrella and sit in the shade with your mobile devices and you're golden!  Put in a full day of work, while the family plays at the ocean or checks out area parks, historical sites, kid activities and local events.  Catch WiFi at an ocean-side hotel, private rental, or one of the cool local coffee shops or cafes.
2.  Burlington, Vermont.  If a laid-back, organic experience is what floats your boat, pack your laptop and head for Burlington.  Pick from a number of local beaches on beautiful Lake Champlain, like Leddy Beach, North Beach or Oakledge, and enjoy work and fun in the sun.  Bring the family along to enjoy the popular Burlington Bike Path, hiking and trail adventures, shopping and restaurants in Downtown Burlington's Church Street area, tourist destinations like Vermont Teddy Bear Company and Shelburne Museum, and the relaxing pace of Vermont life, as well as Burlington's University of Vermont vibe.
3. Cannon Beach, Oregon.  This "artsy" town has what you need for a mini-escape, while still allowing you to get your work done so the boss or your clients don't complain.  While you work, perhaps from your beach vacation rental, the family can enjoy exploring this small, coastal town known as "one of the 100 best art towns in America."  You and your family will love the view of Haystack Rock and events like Sand Castle day and the Farmers' Market.  For an urban experience, the family can take a day outing to nearby Portland, Oregon.
4.  West Palm Beach, Florida.  This vibrant beach town is sure to please, with the makings for that ever elusive, perfect mix of "work/life balance."  Work the day away, play at night.  While you work, your family can hit the beach, ride the free trolley, catch a movie, shop or dine at CityPlace.  Meet the family on your "lunch break" at a yummy restaurant with an international flavor or take a lunch date raincheck, and work hard so you can quit early and check out the local nightlife.
5.  Solomons, Maryland.  Soak up the views of the Patuxent River in this small, but cute and quiet beach town.  Walk on the boardwalk, check out the historical sites and lighthouses, rent a kayak or take a harbor cruise.  Your kids can check out the hands-on discovery room at the Calvert Marine Museum, grab ice cream at Cone Island and then play 'till they're too tired at the jungle gym next to the ice cream shop.
Have a favorite work and play, family-friendly beach destination to share?  Would love to know about it….